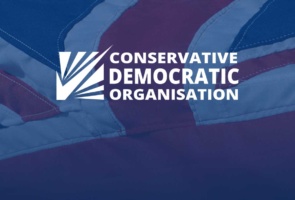 About this event
Conservative Voice encourages it supporters to attend the CDO Conference
We certainly are, and we look forward to welcoming you to the CDO Conference in Bournemouth on Saturday, 13th May 2023, where you'll join like-minded patriots who, like you, want to save our party and our country. 
You are invited to the Take Control daytime conference with a stellar line-up of speakers and celebrity panellists. Then in the evening, we invite you to lose control on the dance floor after a superb 3-course meal, wine, and live music from Britain's Got Talent stars, The Soldiers of Swing.
Please book early, as tickets to the gala dinner are limited.
Due to some VERY important guests joining us, details of the exact venue will be confirmed to you in the weeks before the event for security reasons.