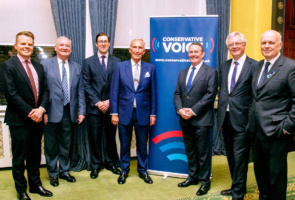 Conservative Voice celebrated its 10th anniversary on Wednesday 15th March 2023 with a Drinks Reception held at the Carlton Club in London.

Hosted by co-founders, Don Porter CBE and Brian Hamill, together with Alex Le Vey, the evening proved to be a great success and attracted almost 100 guests and followers from around the country, including MP's and Peers.

The event was sponsored by our very good friends from Pagefield PR who have supported Conservative Voice since its launch.

Two of our founding MP's, Rt Hon David Davis MP and Rt Hon Dr Liam Fox MP, were guest speakers at this special occasion. They spoke passionately about The Conservative Party's core principles and encouraged Conservative Voice to continue with its good work in the years ahead.

Don also invited Oliver Foster, Chief Executive of Pagefield, to take to the podium. Oli spoke of CV's. achievements over the past 10 years and of his firm's long and proud association with the organisation.

Following the Drinks Reception, a private dinner was held for founders and donors at which The Secretary of State for Health, Rt Hon Steve Barclay (another of CV's founding MP's) kindly attended and spoke after dinner. Steve provided a very interesting and thought-provoking insight to his work in The Health Department and demonstrated an excellent command of his brief just four months into the role.

It proved to be a most enjoyable and successful evening as the attached photographs clearly show. Here's to the next 10 exciting years for Conservative Voice and thank you to everyone who has supported us to date!